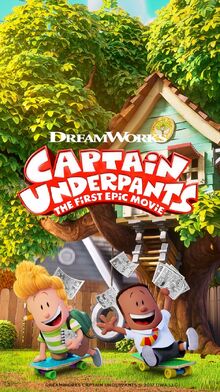 The Treehouse is where George and Harold meet up and produce their comics in their spare time. It was first made by George's dad to play in every now and then.
The Adventures Of Captain Underpants
We first get our introductions Of George Beard and Harold Hutchins for where they meet up everyday & run Tree House Comix Inc..
The Perilous Plot of Professor Poopypants
In the end Harold tells George that he learned something today. The moral of the story ("I think this is the first time one of our stories had a moral," notes George) is that it's not nice to make fun of people.
The Wrath Of The Wicked Wegie Women
The boys have a sleepover under George's Dad's conditions but they are eventually captured by the hypnotised Tara Ribble.
Preposterous Plight of the Purple Potty People
In the alternative universe, it has become the coolest treehouse on the Earth due to all the stealing & crime committed by Captain Blunderpants.
Terrifying Re-turn of Tippy Tinkletrousers
We see the time in George & Harold's kinder years when the treehouse was first being built with space, heater, Tv & random essentials.
The Epic Tales Of Captain Underpants
A place
Captain Underpants Epic Choice-O-Rama
It gets destroyed in some choices, in others, it doesn't.
Community content is available under
CC-BY-SA
unless otherwise noted.