Jessica's Posse
is a kind of group only for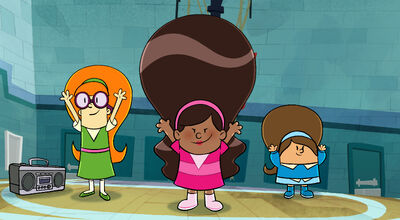 girls, it's owned by
Jessica
, and her Sophies,
Sophie One
and
Other Sophie
.
History
Jessica is the leader in her group, Sophie One and Other Sophie are her servants, they don't talk in her posse, because Jessica puts out a rule to them that they're no longer allowed to talk, Jessica calls out Sophie One first telling her what she wants her to do, and gets all the credit, then she calls out Other Sophie second sometimes with a disgust mistreat, or a don't care sign for whatever kind of no fun job she wants her to do. Jessica makes fun of Other Sophie sometimes for everything, she blames her and says whatever is her fault, even for nothing, and even though she's not around, Jessica would also blame Other Sophie for things even though she doesn't do anything, but Other Sophie doesn't seem to really care that much about getting mistreated a little bit, she still tries hard respecting Jessica and kind of loves being part of her posse. Jessica complains about Sophie One and Other Sophie disappearing, or one of them disappearing, whenever something bad happens, she would say that she doesn't have anymore Sophies, she'd be all out of Sophies if she's left alone in her posse.
Trivia
Gooch has become part of Jessica's posse due to Sophie One and Other Sophie not around in Captain Underpants and the Abysmal Altercation of the Abominable Altitooth, he's Temporary Sophie during the episode, and Permanent Sophie at the end where Sophie One and Other Sophie return and him getting fired, Jessica has given him the rule not to talk even if he wants to, so no matter how serious her rules are, he tries respecting them.
Other Sophie hasn't been part of Jessica's posse for a while since she's been stuck in the jungle for 5 episodes, which makes Jessica mistaking her with a sloth, Other Sophie has only been mentioned.
Other Sophie left Jessica's posse twice (first time being replaced by a tree sloth in episodes 15, 16, 18 and 20 (until she returned at the end), and the second time by searching for a bird that actually has feathers), because in the fourth, she is renamed to Temporary Sophie.
Sophie One stays with Jessica's posse every time, because in the fourth season, she is renamed to Permanent Sophie.
Community content is available under
CC-BY-SA
unless otherwise noted.