The "Piqua Pizza Palace" is a pizza place in Piqua, Ohio. It has made a few appearances in the Captain Underpants series. It also made a very brief appearance in Super Diaper Baby 2.
Captain Underpants and the Attack of the Talking Toilets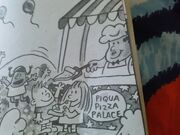 After George Beard and Harold Hutchins are nominated "Principals for the Day" after repairing the school and their detention and suspension are cancelled, they host an all day recess outside for all the students (except for Melvin Sneedly, who tattled on them for sabotaging the Invention Convention). One of the stands that can be seen is from Piqua Pizza Palace.
Captain Underpants and the Perilous Plot of Professor Poopypants
The class is going on a field trip to the pizza palace to eat pizza and play video games. In the line to their bus, George and Harold notice a change to rearrange the letters on the school sign. However, they are caught by their principal, Mr. Krupp, who was hiding in a nearby bush. He punishes George and Harold by banning them from the school field trip and making them clean the teachers' lounge with supplies from the janitor's closet. However, they decide to get their revenge instead and put the sink nozzle in the "on" position, put powdered paste on the blades of the ceiling fan, and fill the refrigerator with small packaging pellets. However, this also leads to Mr. Fyde's retirement as well as Professor Poopypants becoming the new science teacher.
Super Diaper Baby 2: The Invasion of the Potty Snatchers
The Piqua Pizza Palace is the fourth and final store Rip Van Tinkle is thrown out of for getting pee on everything. A chef yells at him "You reek-a ya freak-a!"
Captain Underpants and the Tyrannical Retaliation of the Turbo Toilet 2000
On one of their days off from school, George calls the Piqua Pizza Palace around 9:30 P.M. and orders two calzones, a few cheesy breadsticks, and two 2-liter bottles of ice-cold root beer. George and Harold wait in the driveway for their food so the delivery man wouldn't ring the door bell and George's mom would answer. The Piqua Pizza Palace has not made any appearances since then.
Community content is available under
CC-BY-SA
unless otherwise noted.